Today I ran 20 miles. That is right, TWENTY miles! It's a little early in our training plan for it, but based on advice from experienced marathoners and a review of training plans, my training partner Jennifer and I decided we wanted our last really long run to be 3 weeks before the marathon rather than 2 so we could have a longer taper. Plus, that would mean we could run the Urban Bourbon Half Marathon without adding 7-9 more miles. Then, because we weren't running the big local fall 5k and didn't want a second cutback week so early in training and because Jennifer will be out of town next weekend when we were scheduled to run 20, we made another shift.
Friday was prep day. Ever since hill repeats on Wednesday night, I was feeling tight. So I made sure to take my massage ball to work, and I would take breaks to roll my piriformis (which is a muscle in the buttocks). Yes, this is me in my dress rolling a ball between the wall and my butt at work :)
Also during work, I made sure to hydrate. I knew the forecast was for a high of 90 and lots of humidity, so I was extra focused on hydrating. Luckily, my friend Whitney had recently sent me the perfect container for my water, and it stayed cold.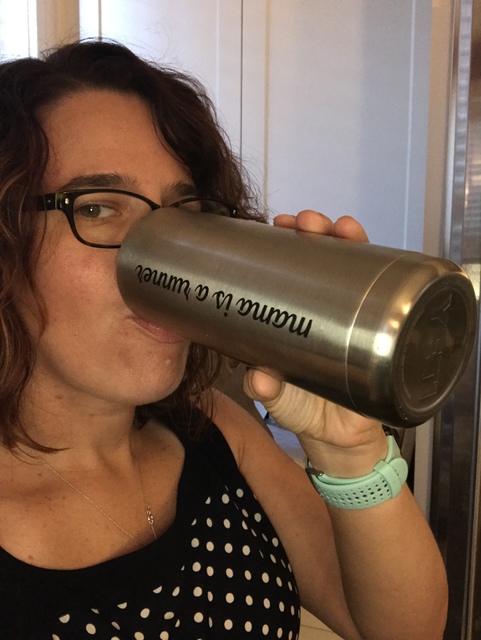 I had planned on going to my monthly women's circle, Red Tent Temple. I have been to every circle since I started going over 3 years ago. However, I ended up leaving work early with blurry vision. I need a new glasses prescription, and when I'm tired, stressed, and/or on the computer a lot, I'm having issues with my vision. My vision didn't clear up very well, and I realized my body was telling me I needed some rest. So instead of circle, Zoe and I had a chill night at home while the boys went to Caleb's ball practice. I made us dinner (leftovers for her, chicken and brown rice and sweet potato for me to fuel me for my long run). Then, we got all my running stuff organized - made my drinks and fuel, packed my Imodium and electrolytes, got my inhaler and bluster protection out, picked out my clothes, and I rolled some more. Once I was ready, the two of us cuddled and watched Doc McStuffins while waiting for the guys.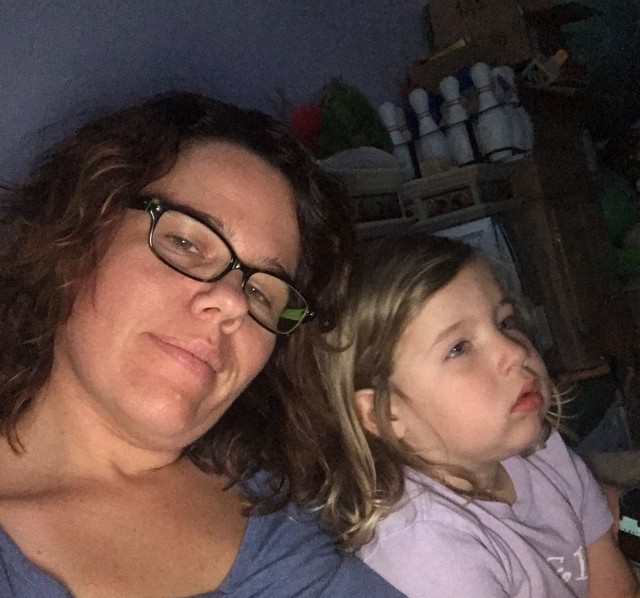 As soon as the guys came home, I was ready for bed. I fell asleep early and fast, but then I woke up at 11:30 from a dream about running (I was running my long run with Jon) because all the water had caught up with my bladder and it took me an hour and a half to fall back asleep.
4:15 came early. At 4:30, I was having breakfast so I could digest before my run. At 5:55, I was at Fleet Feet Louisville meeting Jennifer and another runner for our run. We had decided since we were running early and our own route to make it as flat as possible - we met at Fleet Feet but then drove to a different starting location.
Today's run was hard. In addition to being long, it was hot and humid, and my stomach did not want to cooperate. Jennifer's calf was tight during the first several miles. Chris requested a pitstop at McDonald's at mile 5, and my stomach was happy for the opportunity. Then at mile 9.25, I made another stop. At about mile 10, Chris parted ways with us so he wouldn't run 20 (he had run 20 the week before and was only scheduled to run 16 - and he worked night shift and came straight from work to run!). Jennifer and I were on our own. We had a nice run through St. James Court. As we turned the corner a block from my house, Jennifer had some knee issues. We decided to stop by my house - a chance for her to rest her knee and see how it was doing and a chance for me to make another bathroom stop. After taking care of those issues and drinking some water, we were off again. (Note that we were 12 miles into our run and my family was not up yet.) The next 3 miles went well - our fastest miles of the run. At mile 17.5, we had a bit of uphill to do, and we decided to walk it. At this point, the sun was beating on us, and we were hot and humid and had been out running a long time. Miles 18-20 were long and hard, but WE DID IT! Today I ran a new longest run ever!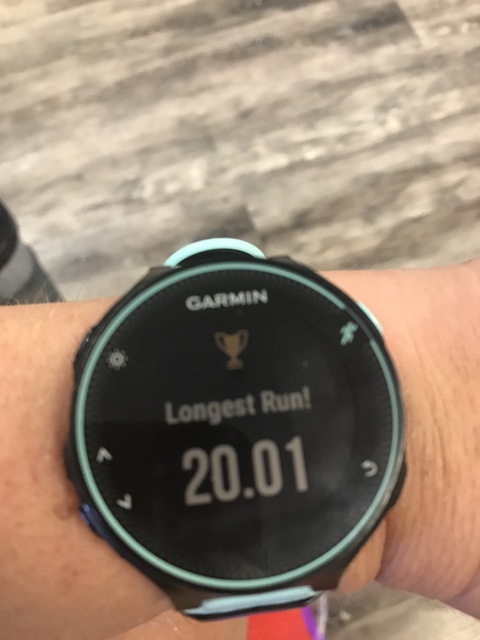 Once at Fleet Feet, we drank some water and did some rolling, and I rested while my nausea passed. I realized I have a toenail turning black (I'm really a runner now!), and then I managed to open the bathroom door right into that same toe.
We were tired, but we were smiling because we had run 20 miles! (Notice that we've been running together long enough that we wear matching Ponya Bands without even planning it.)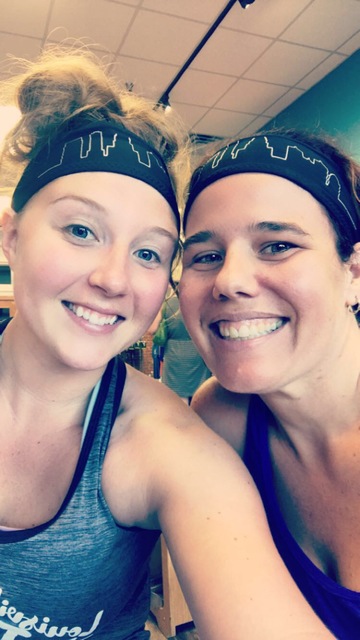 It was time for some much-deserved and needed brunch. We sat down at North End Cafe, and I immediately ordered a biscuit as an appetizer. I usually don't add butter or jelly, but I enjoyed a well-dressed biscuit. Although not the best biscuit ever made, it was the best tasting biscuit thanks to 4 hours of running!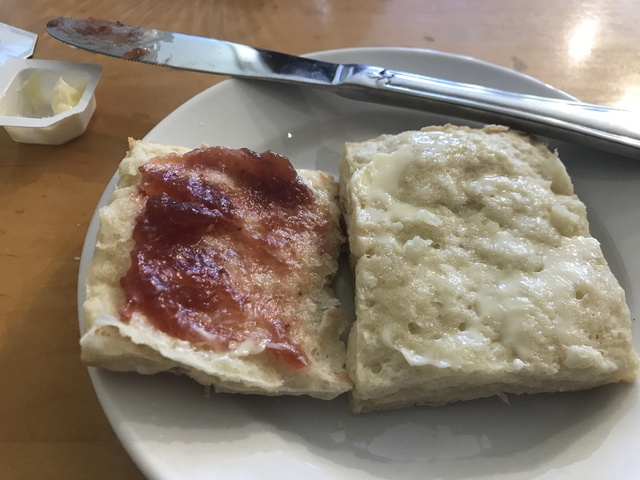 For brunch, I channeled Bess and my inner adopted Texan, and I had huevos rancheros - a great combo of carbs and protein and so yummy (although not as yummy as in San Antonio).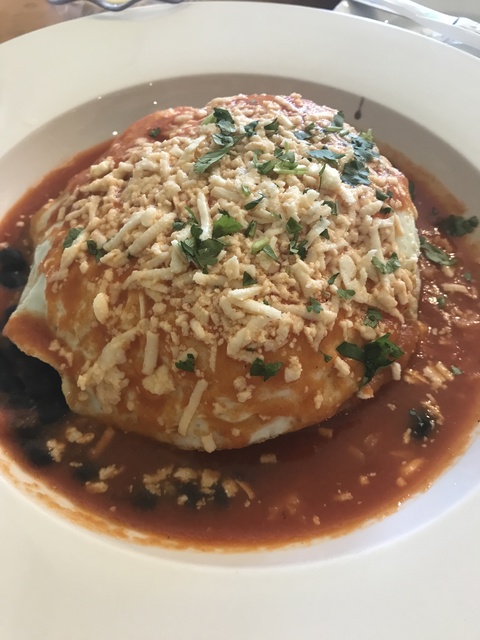 Finally, it was time to head home. I was greeted by an enthusiastic Zoe who then refused to hug or kiss me, saying, "You need to go shower first! You're so stinky!" Caleb gave me hugs, although shortly after he managed to step on the bruised toe and put me into pain. My shower revealed the next sign of marathon running - my right arm had chafed.
As I was icing my knee, Caleb came over, checked out the ice, checked out my toe, and said, "I am never doing THAT." Yet, I was proud of what I did today and am looking forward to doing 20+ miles again in 3 weeks (although I'm also looking forward to 2 weeks of less miles as well).
So to sum things up - prepping to run the day before, heat, humidity, bathroom issues, toenail turning black, chafing, all worth it for the LONGEST RUN EVER! We had a bit of a city tour as we ran down Bardstown Road, ran through downtown, ran past UofL, ran through Old Louisville, ran on the Butchertown Greenway, ran up Frankfort Avenue. I am so grateful for my running partner - we stuck together, we supported each other, and we made it together! I'll miss running with her while she's out of town this coming week, but we'll be running together in 2 weeks at the Indy Half Marathon at Fort Ben, the first leg of Indython, which will conclude with our marathon!