It's been a busy two weeks getting ready for my first marathon. Spoiler alert - this blog post is going to have an explosion of photos :)
On the way to the Indy Monumental marathon, I ran the Indy Half Marathon at Fort Ben, the first leg of the Indython. I was excited to get to head up to Indy with my training partner, Jennifer, to run this "training run." We went to the expo, found some dinner, and then headed to our hotel room to chill out and get some sleep. First though - gear photo and flat Jill and Jennifer photo!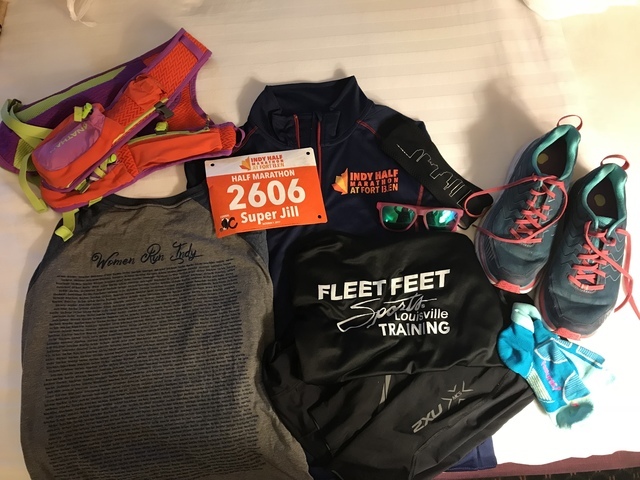 So much gear! The Indy Half Marathon at Fort Ben swag was a half-zip pullover, which was fantastic. They also had shirts with the participants' names on them. I chose the "Women Run Indy" shirt - it is so comfy, and who can resist a running shirt with their name on it? Then there was all the gear for my race - my Fleet Feet Sports Louisville Distance Project shirt, my 2XU compression running tights, my Feetures socks, my Goodr sunglasses, my Ponya Louisville headband, my Nathan vest, and, of course, my marathon long run shoes.
When laying out our gear, Jennifer and I realized that not only did we have matching Ponyas to wear, but we even chose the same pair of Feetures to pack for our race!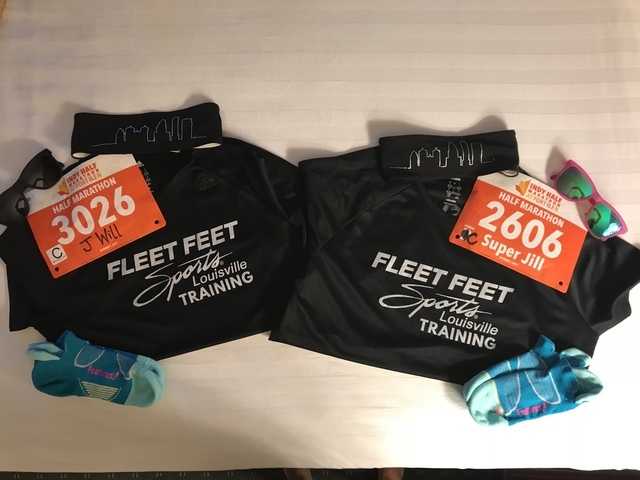 The next morning, we got up early, checked out, and headed to Fort Ben. The weather at the start was nice - a little cool with a few drops of rain. However, we knew the heat and humidity were on the way.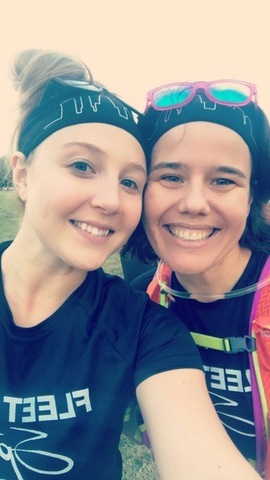 The 2:10 pacer mentioned to us there was a hill at mile 3 and at mile 11. However, by mile 5, we had been up a lot of hills. We had started out at a strong pace, but the hills, the heat, and the humidity started to get to us, and our pace slowed down. It was a training run though - the goal was to finish my 6th and Jennifer's 2nd half marathon. And that is exactly what we did!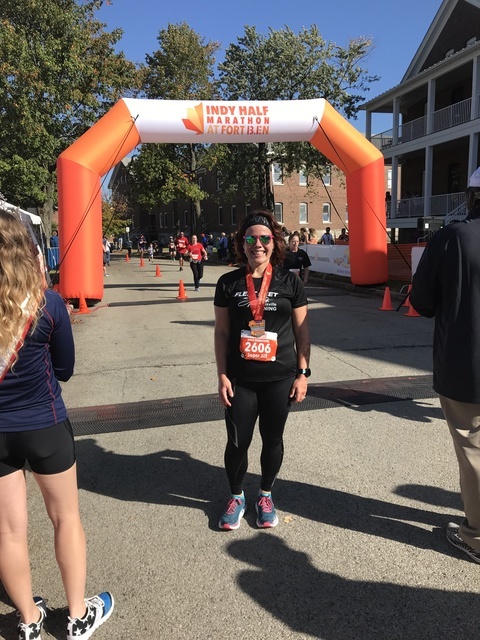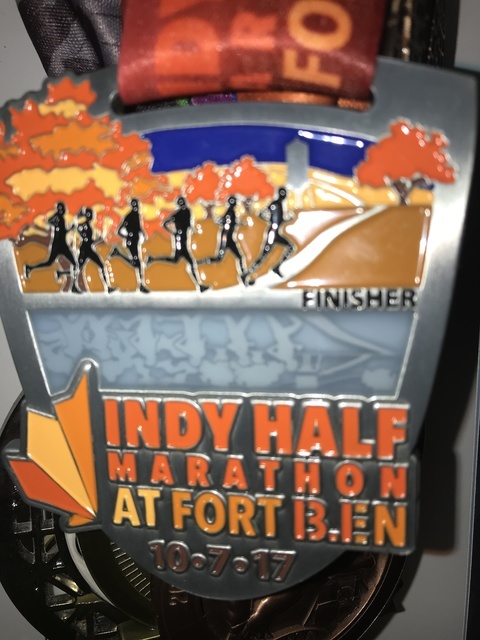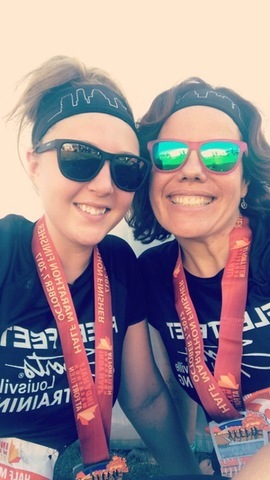 I also had a personal goal to take in the scenery. Even though Jennifer and I had separated during the race, I noticed the changing leaves, the beauty of the national park, and the awesome view as we came out of some woods and saw the lake.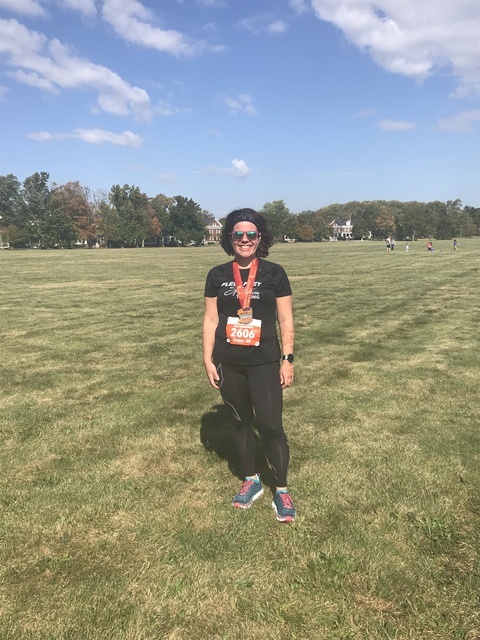 Jennifer and I enjoyed a slice of post-race pizza, chilled out on the grass for a while, and then we headed to Wild Eggs for a well-earned brunch.
After brunch, Jon and the kids came up to Indy to spend the weekend together since Caleb was on Fall Break. We started with a walk downtown to check out the monument and get ice cream. It was really cool thinking about how I would be running down there finishing my first marathon in just 4 weeks!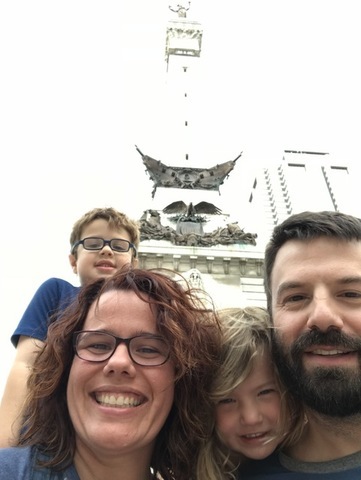 We had a great time in Indy, including swimming and fun at the Children's Museum. The next day, I had my first Kentucky Derby Festival Minimarathon and Marathon ambassador meeting. I'm so excited to be a part of the KDF team - Louisville is an awesome city, and this is such a fun way to see some of the highlights. I'm also excited that since then I've been in touch with two of my favorite people about some awesome giveaways for people who register for KDF and choose me as their race ambassador - more info to come soon, (and will apply to anyone who has registered already too)!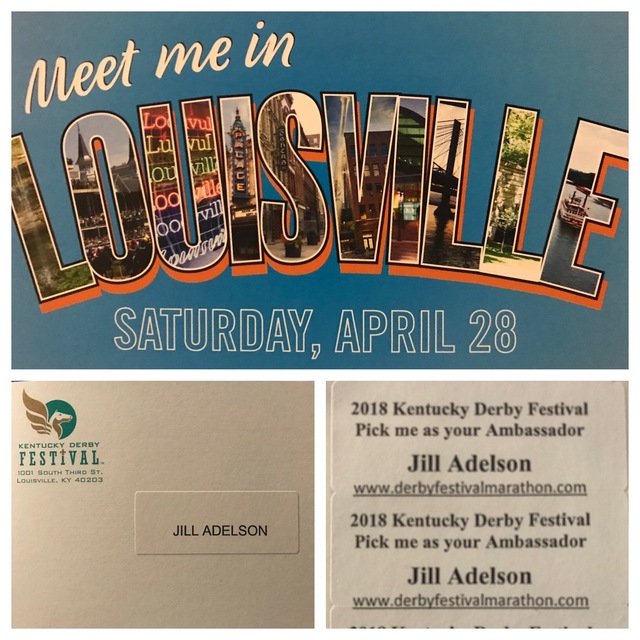 The next week, training continued with another longest run ever. Jennifer and I set out to tackle 21 miles. We met up at Fleet Feet Sports with the Louisville Distance Project to start our run.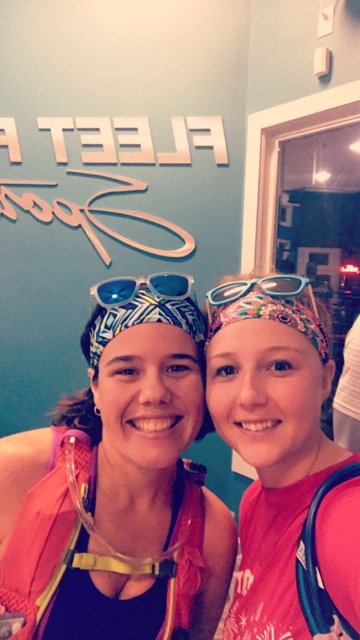 It was just the two of us, and we had created a route that would take us over to Indiana and back. I was trying a new nutrition approach. Ideally, I would have had it figured out by now. However, I've been battling exercise-induced Irritable Bowel Syndrome (IBS), and things just weren't quite right yet so I decided a new approach was needed and had a plan thanks to another Fleet Feet mentor and another running friend. (More to come post-marathon on my body's response to exercise.) The route was beautiful and included some great views of Louisville.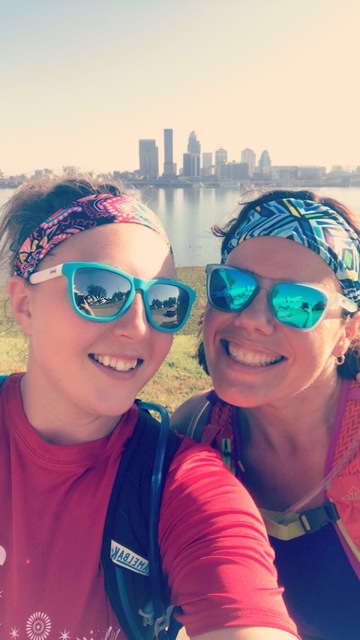 I felt so strong. It was, by far, my best long run in a long time. I had no stomach issues and had good energy throughout the run. My last 3 miles were my fastest, ending with a final mile that was sub-10 minute pace. What a fantastic way to end my last really long run before my first marathon!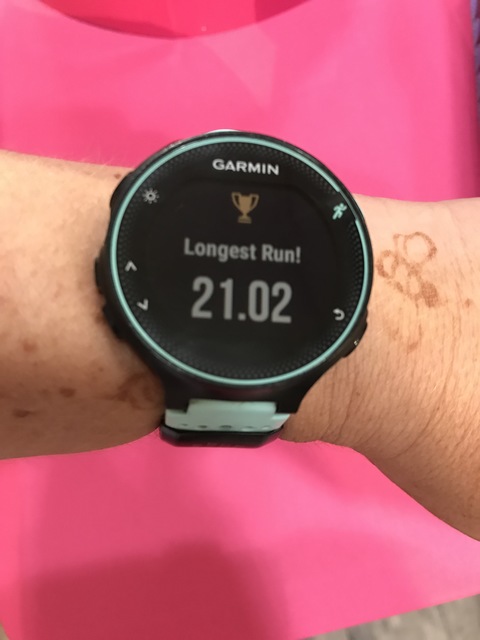 Jennifer and I changed into our Indy Monumental "In Training" shirts, and off we went for some much-earned brunch!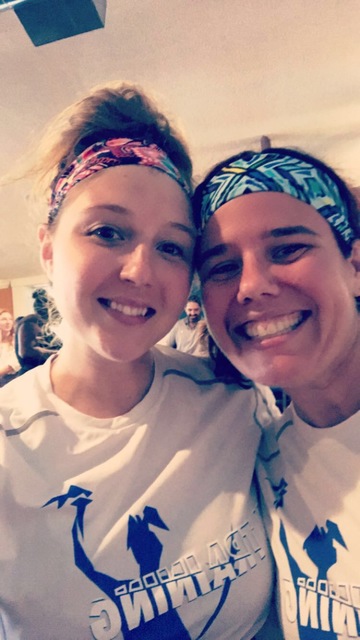 That's a lot that happened in 8 days, so I'm going to end with that - especially since I now have a new adventure in running to blog about, pacing the Urban Bourbon Half Marathon!