Since I race at least one race a month and am busy being a mama and professor, I don't have the time to blog about every race I run. This one definitely needed more than a little blurb on Facebook though.
I ran the Anthem 5k the past two years. In 2016, my time was 31:31. That was a PR by more than 3 1/2 minutes. I was thrilled. Last year, I decided I wanted to PR it again. What I really wanted was an official time under 29 minutes. I had run the Run Run Rudolph 5k in November. I ran 5k in a time of 29:02, but the official course was 3.5 miles and my official time of 32:51. Then I ran the Hangover Classic 5k in January, but the lead runners took a wrong turn and we ended up running long. I finished 5k in a time of 29:08, but the course with the wrong turn was 3.68 miles and my official time 34:30. The night before Anthem 5k 2017, I told this story to the Fleet Feet owner, and his response was, "Well, Anthem is a sanctioned race and there's no way the course won't be right." Cristin had offered to pace me for the race and jokingly told everyone I was going to get a sub 27 minutes. It ended up that they blocked the course out wrong - it was only 2.95 miles! My official time was 25:29 for the shortened course. My pace was 8:38, which would be a 5k time of 26:49. I felt pretty good with that as a PR given that I had done negative splits and was going strong. I had PRed by so much! But yet, it wasn't a full 5k, so it was a bit tainted. I focused the rest of the season on my half marathon (which I also PRed), and then the next season I was marathon training and not racing. I had my eyes set on Anthem 2018 as my next chance to PR a 5k.
I came back from Disney World (5 days of walking the parks and a 5k, 10k, and half marathon) worn out. I took the week after recovering my very tired legs with some easy runs and OrangeTheory Fitness workouts and a massage. Then the next week, the week before Anthem, I ran Monday and did OTF on Tuesday. On Wednesday, I flew out for a short work trip - I left Wednesday and came back Friday night. It was the first 3 consecutive rest days I had that I could remember in forever. I got in Friday night, so I was not sure if I'd try for a PR or not. On Monday, I had talked to my training partners about the race. Laura and Sandy were not planning to race hard (which I didn't believe - I told them they were in for big PRs). Zoe and I had very similar PRs - her Anthem 2017 predicted time was about 26:45. And Tim is training for his first marathon, so he didn't want to try to run as hard as the previous year when he had a 22 minute 5k. Zoe was very positive about the two of us PRing together. She knew we could do it and was encouraging me to start with her. So I wasn't sure, but I figured I'd see how our warm-up went and likely start with Zoe.
I woke up early Saturday morning and had a leisurely morning getting ready. I ate a Honeystinger waffle and drank some Sword to fuel me. Zoe and Tim met me at my house at 7:00 in the morning. The three of us had an easy warm-up run of about 2 miles to get downtown. It was a great way to start the morning - easy pace and good conversation. We arrived to find out we had literally just missed the Fleet Feet family photo, but since our group and another group had just shown up at the same time, they agreed to do another photo.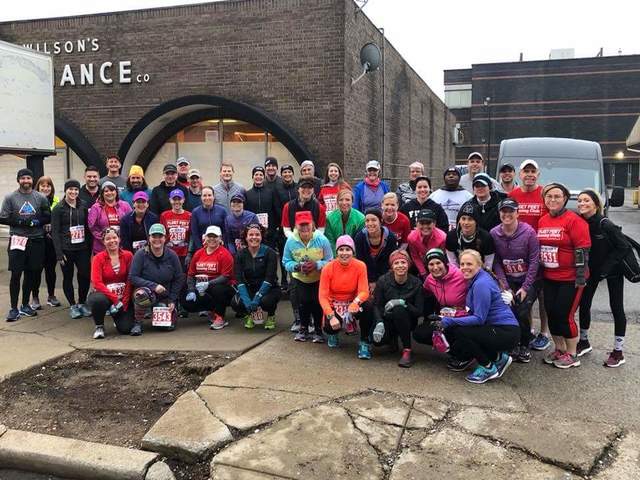 Next, I ran a block away to meet up with the Derby Festival Minimarathon/Marathon ambassadors for a group photo.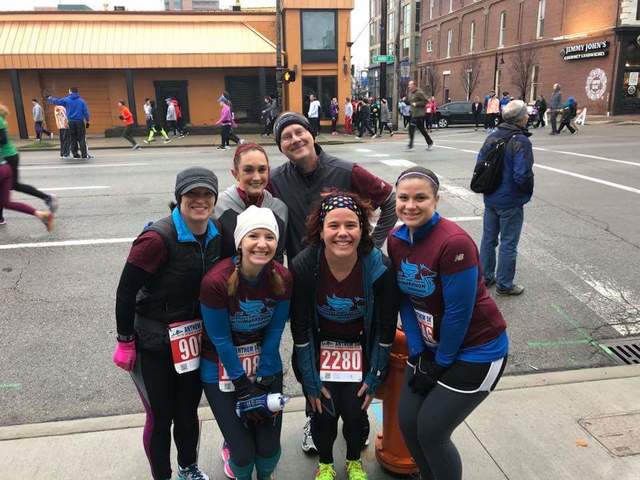 Finally, all photos done, it was time to head to the start line. I found Laura, Sandy, Zoe, and Tim, and we headed to corral C. We were talking about our plans, and Zoe, Tim, and I decided we were going to move up and start faster - Zoe and I were going to go for a PR. Zoe wanted to have an average pace a little faster than 8:30. I suggested a first mile of 8:30-8:45 and then increase in speed. We tried to find the other Tim and Scott to maybe start with them and then let them take off, but we couldn't find them. We ended up right where corrals B and C were mixing.
We went out a little too faster. I told Zoe once that we were at an 8:05 pace and once that we were at an 8:10 pace. Our first mile ended up being 8:22 - definitely too fast. The air was thick - cold and wet, and my asthma kicked in. Combine that with my fast first mile, and I found that I needed to ease up. I started dropping back. Zoe was going strong, and she kept going - it made me happy to see how well she was doing. After a little while of solo running, I started debating if I should ease up a little more since I wasn't going to PR anyway. About then, Tim dropped back to run with me, and I told him no PR today. He told me I still had it and was at a good pace. We ran together. I ran hard but was focused on just not giving up and pushing myself, not on a PR. My second mile was 8:43. The last mile, I started pushing a little harder again. Tim wasn't letting me give up, and neither was I - 8:33 pace. I was telling myself my mantra - "This feels hard because it IS hard, and I'm doing it!" Then Tim asked if I had a sprint left in me. I said "I don't think so," but my body starting going faster anyway. Final 0.13 mi was 6:40 pace! It was a PR by over 20 seconds!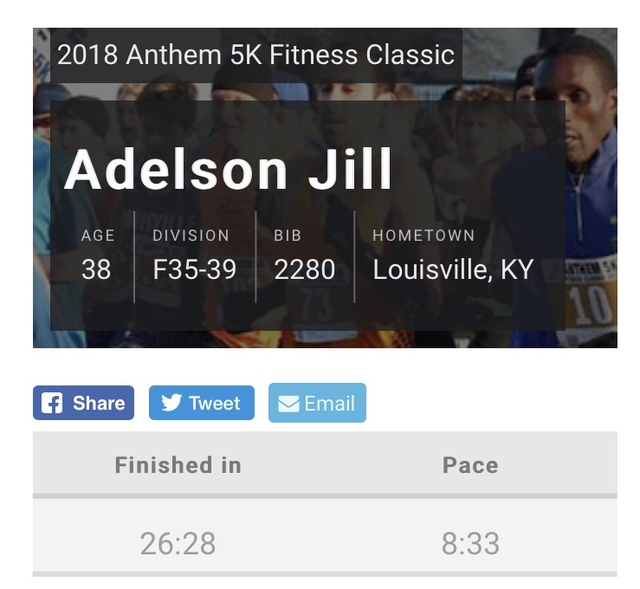 The race photos are not my best race photos. I look like I'm dying, but I felt like I was dying so that's pretty accurate lol. Tim said it doesn't look like I'm dying but like laser focus. He's right - I was focused on that finish line and on pushing myself and not giving up.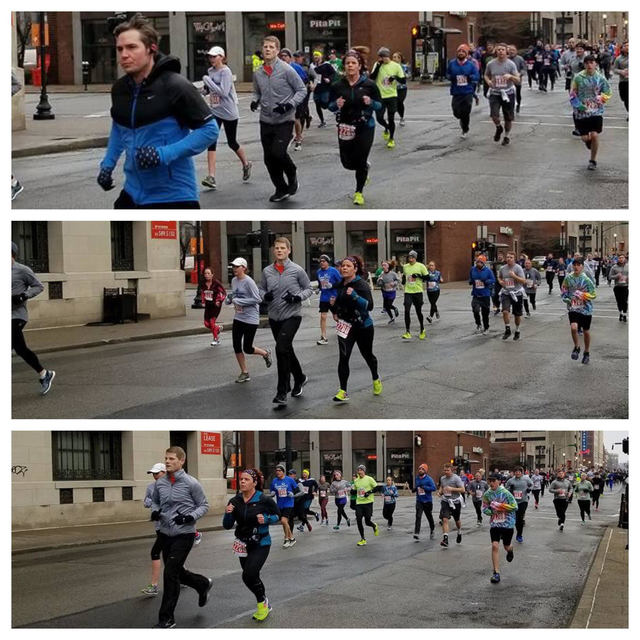 Like with my marathon, we soon met up with our training partners, and we found out we all were within a minute or so of each other! Zoe ended up dropping her key and having to get knots out of her shoelaces, and she finished with a time of 27:00. Sandy was just under that, and Laura was a second over that! Tim H. and Scott also had amazing PRs!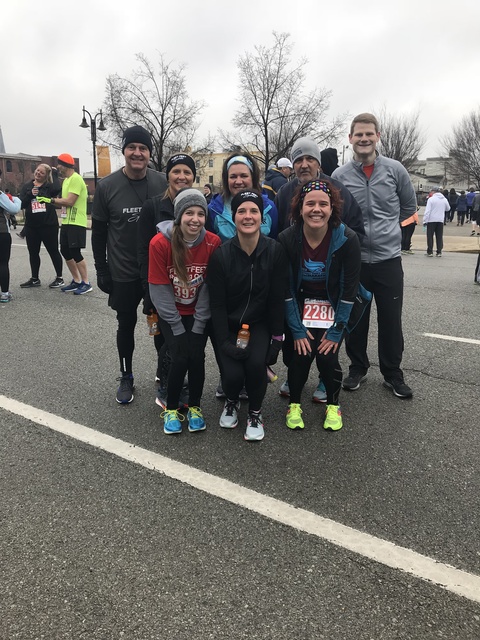 Before we sent Tim on his way to run another 11 miles as part of training for his first marathon, the warm-up runners took one last photo.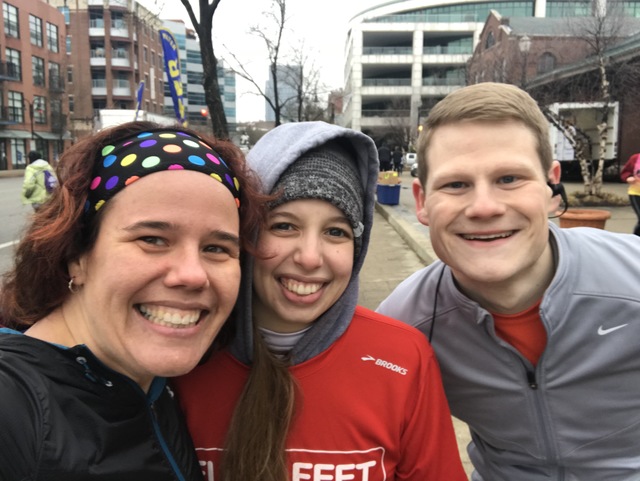 Then, Tim headed off to run, and Zoe and I started our cooldown of 2 miles back to my house. Along the way, we passed the KDF office, so we stopped for a quick pic with the pegasus.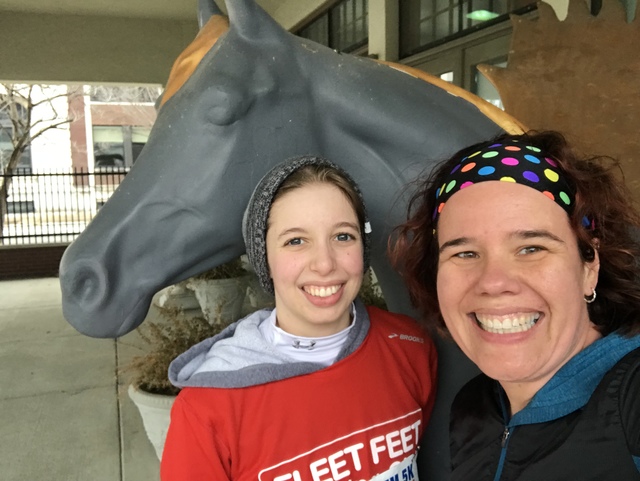 I got home, drank the remainder of my Sword, and then headed up for a hot shower. My usual race routine is that after the race I shower and then spend the day in my race shirt and 2XU recovery tights. However, Laura had picked up my race packet since I was out of town during packet pickup, so I didn't have my race shirt. Instead, I chose to wear my new Fleet Feet Durham shirt that I acquired on my trip (with my Disney Princess Challenge hoodie).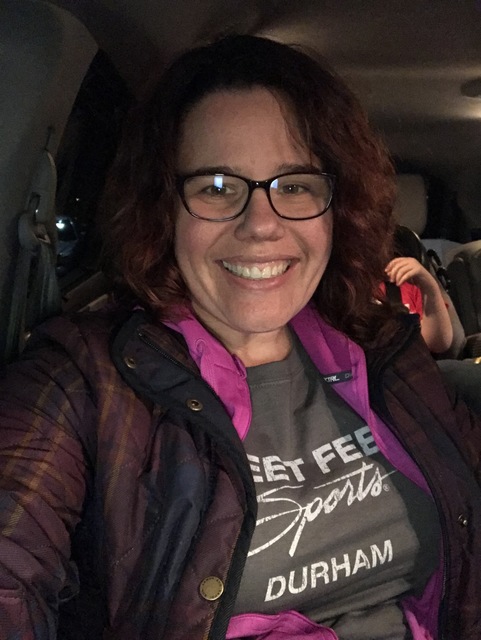 Although the plan was an easy recovery day, I was excited when Caleb suggested we take a family walk across the Big Four Bridge (about a mile) to have lunch and then walk back. What a great way to celebrate a new 5k PR - a family walk and some yummy food!