During third trimester, I was doing a lot of long runs with Barb, preparing for my half marathon. I have so many memories from that period, especially our 13-mile run in the cold rain. We had lots of time to talk, and she shared a lot about her beginner triathlon group for women. So there I was, about to welcome my third baby to our family, and I set the goal to train for a triathlon.
After having my baby, I was focused on building up my running safely while respecting my body. I tried to add some swimming in for a while, but just figuring out being a mama of three, returning to work the earliest of any of my kids, keeping my running up, was enough. So I kept mentoring the Fleet Feet 10k program and kept looking forward to my long-term goal. I did register for the training group Barb mentored, which started in February, and I registered for the Ramblin' Rose, a women's sprint triathlon on May 17, shortly before my baby's first birthday.
In October, I ran the Carrobo 10k, helping push the people I had mentored that season. Then, I ran the Bull City Race Fest 5 Miler, running continuously and pushing myself. My running was starting to feel more like me again, a slow me, but me. I decided it was time to add in some swimming. I have always loved the water, but I had never in my life swam laps. I completely stepped out of my comfort zone and showed up at a Master's swim. I went once a week, making it 50m continuously, then 100m, then 200m, then 300m... I was getting better, getting stronger, improving my technique. I still remember a few practices in when I decided to try a swim cap (given to me by Barb) - even that felt like a huge step and, again, something outside my comfort zone. I even watched YouTube videos afraid I would be putting it on wrong.
I usually struggle with a Christmas list for my in-laws, mom, and husband. This year, I had no problem. I put triathlon books, a water bottle cage for my bike, and so much swim gear - kickboard, pull buoy, second pair of goggles, swim cap, towel, bag. I shopped locally and bought fins and paddles.
In February, running was ramping up. I was mentoring for the Fleet Feet program, training for a mid-March half marathon, with a goal of it being my first continuously-run postpartum half marathon (and also to get a proof of time for my November Disney races). The women's beginner triathlon training began. Unfortunately, it is based on Raleigh, with practices being about an hour drive from my house. I already was going out one night a week to Fleet Feet runs and Saturday mornings for Fleet Feet long runs. At this point, I started swimming two mornings a week - once with my masters group and one with two women from North Durham Runners Club. Mary, a triathlete, was helping Bonnie, a new swimmer, and me build up our swimming at a community pool. I also was doing OrangeTheory fitness twice a week for the strength training and for some extra running and cycling. I decided not to add in a weeknight bike/run with the tri training group or one of the two weeknight swims with them - I did not want to commit that time away from my family, and I could not imagine being out that late with my schedule. I did, however, join them for Sunday rides. I had never really ridden my bike except for the occasional commuting  (I lived just 1.5 miles from my office in Louisville) and bike ride pulling the kids in the trailer.
After our first bike assessment, I went home to my neighborhood and rode up and down the rolling hills practicing my gearing as I don't think I had ever used 2/3 of my gears. By the end of that ride, I was feeling great. In fact, overall, my progress felt fantastic. I was swimming 2 hours a week, my running was progressing well and I was feeling prepared for my half marathon, and I was enjoying my biking. I had not yet done my sprint, but I started looking into Olympic triathlons because I knew I wanted something to train for - that I could do the distance for a sprint and would be doing one, but I wanted to keep training and try further distances.
As everyone knows, this story takes a sad turn, thanks to COVID-19. The Thursday before my half marathon, it got cancelled. It was the first weekend of what was to become a long series of cancellations. I met up with a few friends (one last time, for what we didn't understand would be a very long time) to do a virtual half marathon. I had an amazing run - I felt great and increased my speed as I went. I ran the first couple miles with some runners from the group I mentored, then I moved up to the next faster group and ran with several runners from that group, and then at the halfway point when they stopped for the restroom, I kept running and even picked up the pace more. I not only ran continuously for all 13.1 miles, but I ran it strong. I felt great! I was disappointed not having that finish line moment with my three children there, but I was proud of how far I had come through pregnancy and postpartum.
Little did I know that would be the last time I ran, swam, or biked with someone else for a very long time. Both running and triathlon training groups were cancelled. Pools were closed. I kept running solo from home. I kept biking solo from home. I downloaded a 4-week dryland swimming program and started doing resistance bands and core work 30-45 minutes 3x a week instead of swimming. I also made a life-changing decision to join the Coeur Virtual Training Camp.

<<This is where I stopped writing this blog 10 months ago. I'm going to pick it up with a very short conclusion as there is something more recent that I'm wanting to blog about!>>
The Coeur camp was amazing. I did my first bike workouts, I attended talks from sponsors and coaches and learned so much. I used a classic trainer that Barb had given me to use, and I started doing bike workouts with the Coeur camp on Zoom and Zwift. I became stronger and was loving all 3 disciplines. The weekend that my calendar said "Jill becomes a triathlete", I didn't get to complete a triathlon, but I did do the next best thing. Ironman had started some virtual races. That weekend was their sprint triathlon, but with pools closed, they replaced the swim with a bike. So I went out and did a run-bike-run in succession.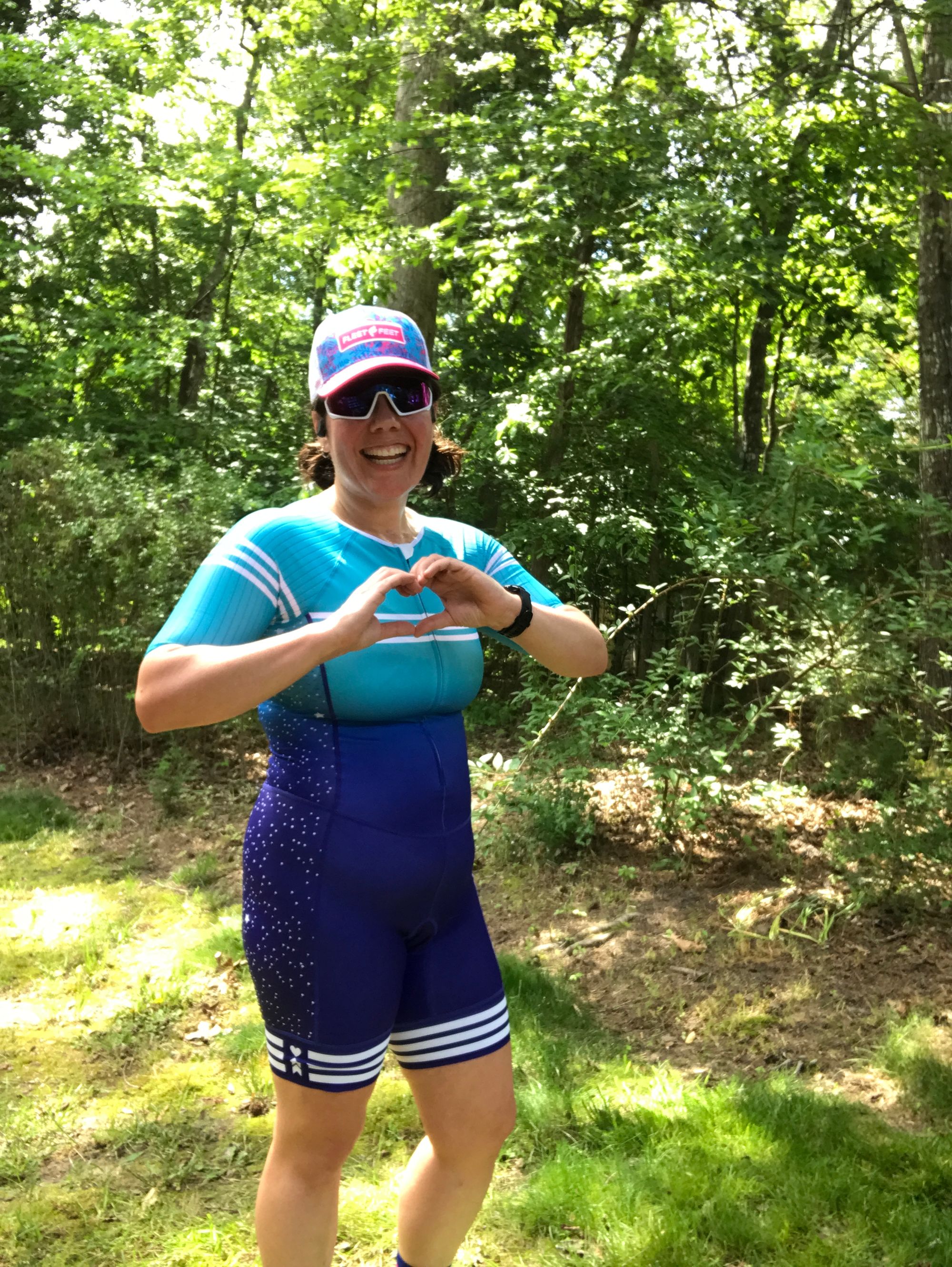 It wasn't a swim-bike-run, but I knew that I had become a triathlete. When I put that on my calendar, I thought that racing a triathlon would be what defined me as a triathlon. Somewhere along the way, I became a triathlete though - it wasn't about racing. It was about getting up before my children to get a bike ride in, it was about structuring my nutrition to support my training, it was about being consistent with workouts, it was about devoting time to learning more and improving, it was about having fun. Although I had not done a swim-bike-one, I knew I was a triathlete. If nothing else, the fact that I continued to swim, bike, and run with no races in sight confirmed that, indeed, Mama is a Triathlete!