This blog post is long overdue, but given I ran my first marathon 2 weeks after the Urban Bourbon Half Marathon, I was a little preoccupied :) This race was a big one for me though - it was the first time I was a pacer - so I definitely wanted to take some time and share my experience.
During the Spring training season, my training partner Jennifer let me know that she really wanted to run the Urban Bourbon Half Marathon. We decided that even though we were going to be marathon training in the Fall that we would work UBHM into our schedule. The original training plan called for a 22-mile run that day. However, after much research and talking with experienced marathoners, we decided we wanted a 3-week taper rather than a 2-week taper. The added benefit of this was that UBHM was 2 weeks out, and we would not have to add on 9 miles after the race. The other way that I fit UBHM into my training schedule is that I volunteered to be a pacer at a much slower pace than I typically run a half. This would guarantee I didn't get caught up in the race excitement and go out too hard 2 weeks before my first full marathon.
When I decided to volunteer to be a pacer, I knew I wanted to make the most of the experience and to have a lot of fun doing it. One way to do this was to team up with someone I would have fun running with for over 2 hours, someone who runs a similar pace to me and would have fun slowing down and encouraging others. I was super excited when my friend Amanda, a fellow Fleet Feet family member, agreed to pace with me. We signed up for the 2:30 pace group, and my training partner Jennifer planned to run much of the race with us.
Race morning came, and I was excited. As has become tradition, Paola picked me up, and we headed downtown for the race. I had to get there early to meet up with the pacers, to take a photo with the Fleet Feet fam, and to take a photo with the other Derby Festival MiniMarathon and Marathon ambassadors.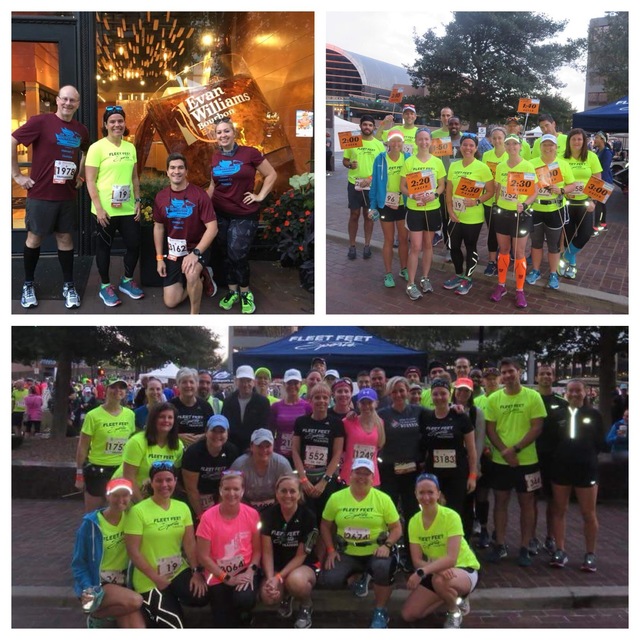 Pre-race energy is always fun to be around. With all the photos and wanting to be in the chute with my pacing sign early, there was no time for one last bathroom stop, but I was feeling confident and ready for a great run!
Pacing is so rewarding and also challenging. I set my Garmin Forerunner 235 to alert me if my pace became 30 seconds too fast or 30 seconds too slow to help Amanda and me stay as steady as possible. Amanda also taped what time we should cross each mile marker to her pacing sign so we could see how far off or how close we were and could make little adjustments as we went.
During the early miles, we stayed pretty steady, slightly ahead of pace. Amanda and I were okay with this given we knew we had hills ahead of us when we got to Cherokee Park and that we would want to slow down a bit. We started with a large group, including some guys wearing banana, bacon, and whoopie cushion costumes. As we went on, some of the runners fell back, some went ahead, and some stayed with us. When we got to the hills, Amanda and I found our bodies naturally wanted to speed up rather than slow down. We had trained our hill repeats, and our bodies knew what to do. I reminded Amanda multiple times that we needed to slow it down. As we went through Cherokee at a steady pace, we encouraged the runners who had slowed down and were walking up the hills. We had several runners still staying with us and going strong. As we left Cherokee, I mentioned there was still one more "incline" to come.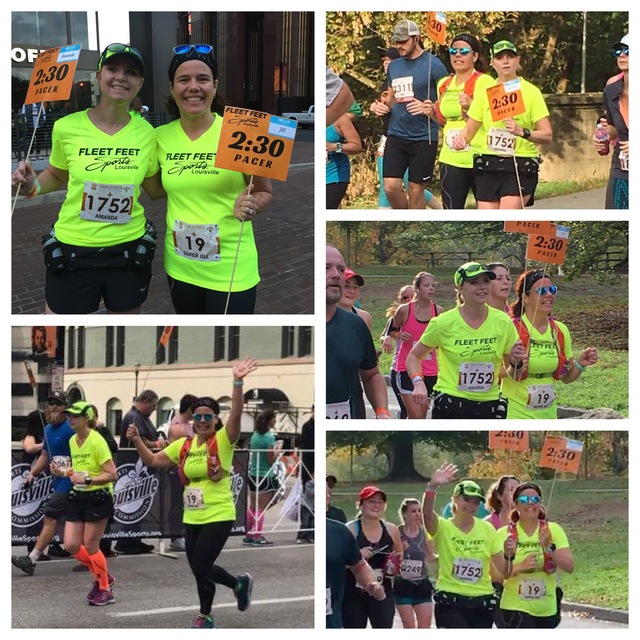 When we got to Lexington Rd. and started up the "incline," Kate and Andrea, who had been running strong with us, pointed out it was not an incline but a hill. They stayed strong and kept pushing with us. I could tell at one point that Kate was really working hard. She had been carrying a plastic water bottle with an electrolyte drink in it. I took the bottle from her and told her to just focus on the hill. I remember from Cristin pacing me to PRs how much having her take my handheld water bottle always helped me - as much mentally as physically. There's something about someone helping take the "burden" off you when you're working really hard, and it's one less thing to weigh you down or to focus on while pushing. Sure enough, Kate's determination set in, and she kept pushing up that hill. I could tell the hill was challenging her, but she did not give up. She stayed right there with us. As we approached the top of the "incline," Amanda looked at me and wondered where my water bottle had come from (I was wearing my hydration vest as I would for the marathon). Once we were on flatter ground and had recovered a bit, Kate took her water bottle back, and we continued on.
One of my favorite parts of the race was coming around the corner and hearing, "Mommy!" I love running half marathons in Louisville and having my family come out. Nothing fills a mama's heart more than seeing her kids while running. I veered off course briefly to get some high fives and kept on running. That little excitement filled everyone with speed, and I had to remind our group to slow back down :)
As we talked, we learned we were definitely on pace for both Andrea and Kate to set a PR, and Andrea had just set a PR the week before! We had a third runner with us who also was on track for a PR. We let them know that we would stay steady, but if they felt good at mile 11 or 12, they were to go ahead. By mile 11, Andrea left us. By mile 12, Kate left us. That last mile was so hard. We had to keep ourselves from speeding up. We encouraged the runners around us, especially any that we passed and who were slowing down. The closer we got to the finish line, the more our bodies wanted to speed up and the more I had to remind Amanda that we were to stay slow and steady and not speed up. I told her our goal was not to finish hard, like we usually do, but to see how many people we could encourage to pass us. That helped. We cheered people on, and we stayed slow. About a quarter mile from the finish, we realized we had gotten everyone around us ahead of us and there was a large gap behind us. We had fun as we came towards the finish line. Our goal was 2:30, and we finished at 2:28:40. Amanda and I were thrilled to have finished close to our goal time and to have helped several people not only stay strong and positive throughout the race but finish with PRs. We were excited to cross the finish line and find both Andrea and Kate there, where we got some photos together.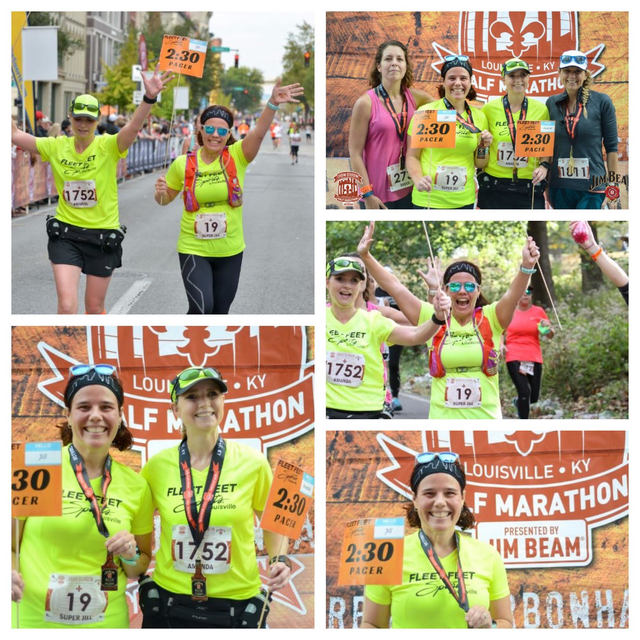 We headed to the after party, where Amanda and I got one more set of photos with the three women who ran with us and PRed before we met up with the Fleet Feet family.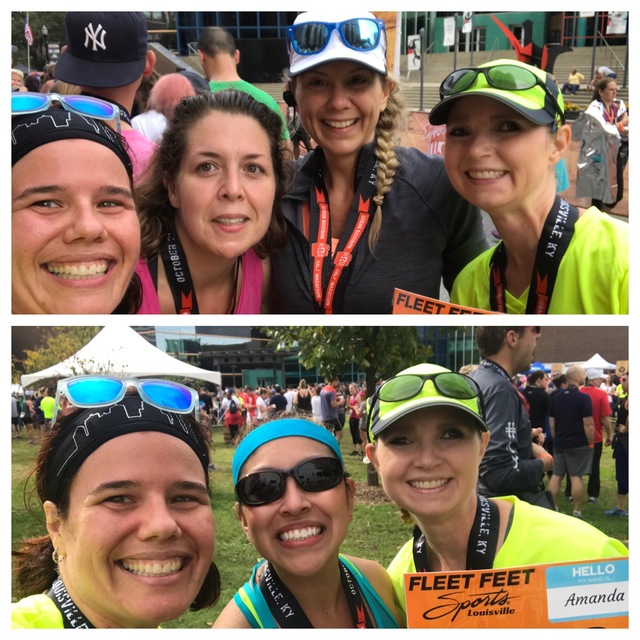 At the after party, which the UBHM is known for, Cristin was waiting with a whole pizza. She and I went and got beer for us and for our husbands, who had done some hard work spectating with children. I found Jennifer and got to hear about how well she had done - leaving our pace group behind and finishing strong. It was a fun way to end a fantastic morning racing!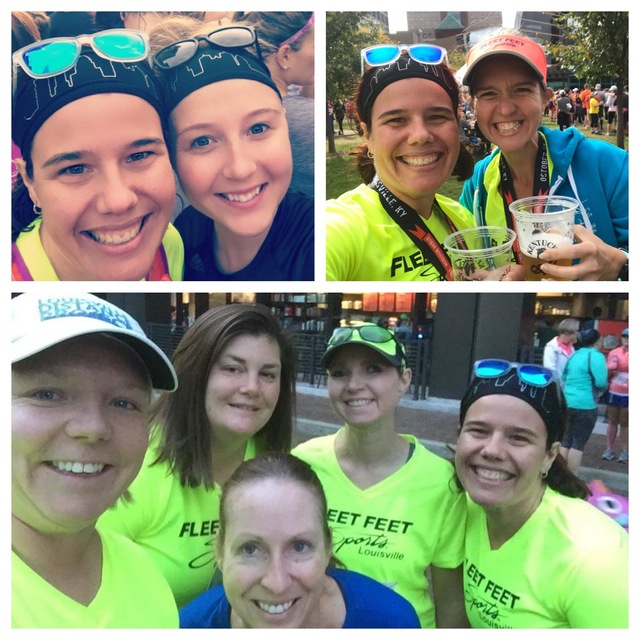 UBHM will always be one of my favorite races. It is in my hometown (hence the Louisville Ponya, which I was excited to wear for this race). Because I do hill repeats in Cherokee, I feel so empowered as I breeze through Cherokee feeling strong. The after party is a great way to chill out and hang with friends. It has a unique medal. That being said, pacing it made it even better. I had so much fun cheering on the runners around me and helping them meet their goals. Amanda and I made a great team, and we worked to keep each other on pace as we encouraged those running with and near us. I am grateful to Michael Clemons for putting on an awesome race and to Fleet Feet Sports for the opportunity to be a pacer for it. I hope that this becomes a racing tradition for me!