In Spring 2016, I was preparing to run my first half marathon. I had just returned to running in Fall 2015 with a 5k training program, and until that season, I had never raced farther than a 5k. I decided I would treat myself with race henna, which I called my "warrior paint," particularly since one of my 5k training mentors called the 3 of us who were training to run the 5k "warriors."
Since then, I have run 6 more half marathons, and each time I have gotten race henna - it is my long-distance racing tradition. I have been honored that some of my friends have joined me in this tradition. We schedule a group session 2 days or so before a big race, and we get henna. Fleet Feet Louisville also has brought Bohemian Monkey, the amazing henna artist I go to, to Fleet Feet the last two seasons so that other runners can get henna before race day.
So, of course I had to schedule a henna appointment with Rose of Bohemian Monkey for henna before running my first marathon. Although after my first half marathon, I typically only got henna on one arm, I knew I was doing both arms in preparation for the big task ahead of me. I went into my henna appointment with an idea or two for henna, but I wasn't completely sure. Thanks to my friend Cristin, I knew I wanted the Indy Monumental course as part of my henna. I texted with my friend and life doula Amy and had some ideas for incorporating some symbols of Heroines into my henna. As always, I did not have a definite plan but had ideas, and Rose did amazing work with those ideas.
On my left arm - the one I knew I would be looking at because my watch is on that arm - I got the Indy Monumental course. Rose added a heart at the finish - that's where my family would be! On my hand, I got my traditional finish line. For the first time ever, that finish line didn't say 13.1 but said 26.2! Past the finish line were J, C, and Z - the initials of my family, who I knew I would see along the course and would have big hugs for me at the finish. To round out my family, on my thumb Rose wrote "Mama is a Runner." On that hand, I also had her add a laurel, a symbol of the Nike, the Greek goddess of speed, strength, and victory.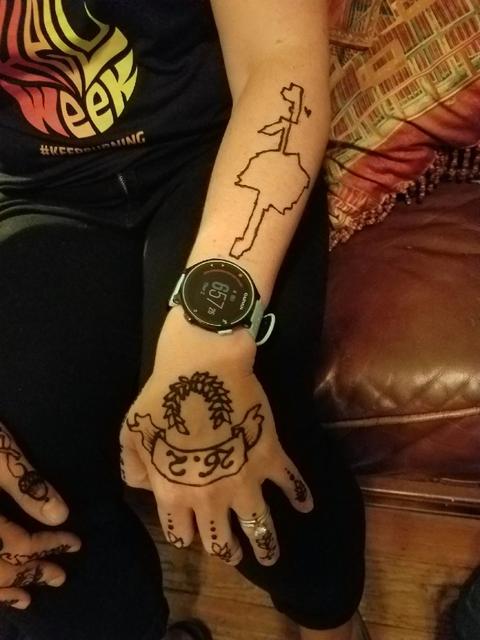 The laurel and finish line were symbols that JWill, my training partner, also chose for her right hand, giving us a little matching for our henna.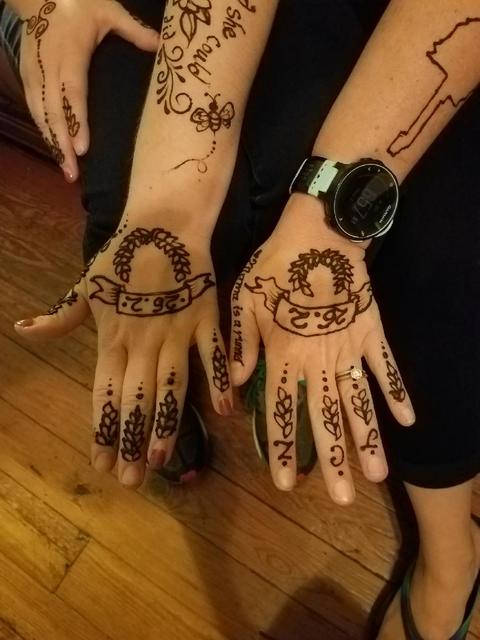 On my right arm, I had much less of an idea of what I wanted. I had some ideas, and Rose combined them into a beautiful design. I wanted symbols of strength and endurance. I started by telling her I wanted to incorporate an oak tree, a symbol of Atalanta. As an independent woman and a runner, I am drawn to the story of Atalanta. She prioritized her education and having adventures of her own, and she outran potential suitors (http://www.goddessgift.com/goddess-myths/goddess_atalanta.htm). Rose incorporated this into my henna with oak leaves and acorns. Next, Rose incorporated a lotus flower, which is a symbol of strength and perseverance in Buddhism. Lotus flowers grow in very difficult conditions, growing from dark, muddiness under the water. They are very resilient and represented to me the inner strength I would need if/when the marathon got difficult. The next symbol incorporated was the triskelion, a triple spiral and Celtic symbol for strength. The triskelion is like three legs running or like three wheels that are always turning and moving forward. This represented the will and strength to move forward - to keep moving forward throughout the race no matter how difficult (mentally and physically) it may have gotten. My henna would not have been complete without the symbol I have used to represent my inner strength for so long - the SuperGirl symbol. Rose finished it up by adding an arrow for moving forward (and a symbol of Artemis).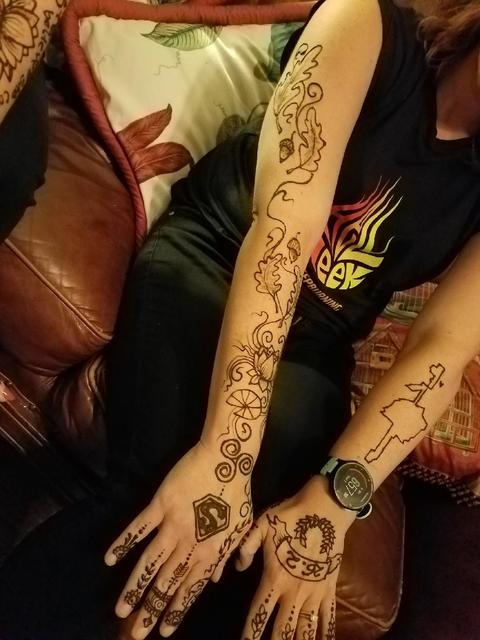 I was in love! Rose took my many ideas and incorporated them into a beautiful design. Then, she did JWill's henna, incorporating in bees (see my previous henna blog post), a lotus flower, "She believed she could, so she did," the triskelion, a dragon, and the sun. We both were decked out in our symbols of strength and endurance, and we were ready to run our first 26.2!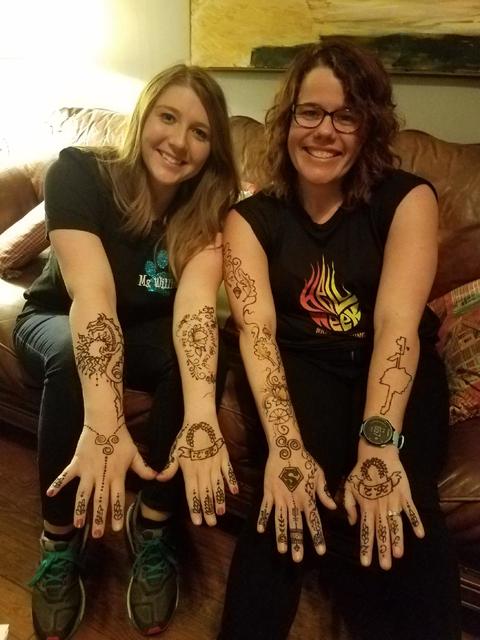 Are you inspired to get your own race henna? Ready to run a half marathon, a full marathon, or maybe get a team ready to run a relay? I am super excited to team up with Bohemian Monkey to do TWO giveaways of $25 henna gift certificates! If you (a) register for KDF and select me as your race ambassador (by 1/15 for the first drawing and by 4/15 for the second drawing), (b) head over to Bohemian Monkey's Facebook page and give it a like, and (c) like my Mama is a Runner facebook page and the post about this blog and contest, you will be entered to win a $25 gift certificate to Bohemian Monkey! (Plus, you will be entered in other KDF ambassador drawings I do, such as for a Fleet Feet Louisville Distance Project training group membership or massage!)
KDF was my first half marathon and the first time I got race henna, and I am excited to share this opportunity with someone else who will be running KDF 2018! So sign up for KDF and pop over my Mama is a Runner Facebook page and tell me why you're excited to run KDF 2018! I can't wait to see you there!